RINSE AND WASH WITH EASE!
Our Wonder Washing Machine adopts an integrated mini style wash!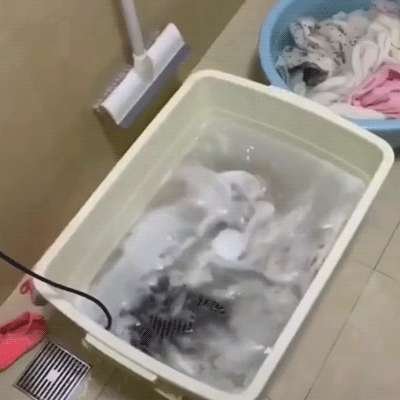 Make your daily life easy with this Portable Mini Washing Machine. It is an independent washing machine chassis that can be directly hung on the barrel wall and placed on the bottom of the barrel. You can wash clothes and kitchen essentials easily.
This is a mini portable cleaner with advanced ultrasound technology and its size is like an cut dolphin and deep cleaning of small hole design.
Oxidation Bubble
High-pressure water creates thousands of bubbles to burst into water, which can easily clean dishes or clothes!
Mufti-functional:

 

Not only for clothes but with high-frequency vibrations this mini portable washing machine also can help you to clean jewelry, glasses, fruits vegetables and tea set etc

Ultrasonic High Frequency:

 

This washing machine will emit vibration waves to clean clothes, effectively remove dirt, and make your clothes clean. Suitable for light and small clothes, such as underwear, socks, etc.

Durable Materials:

 

The mini washing machine is made of nontoxic, eco-friendly, corrosion resistant environmentally friendly ABS and TPR materials, saving water and energy, suitable for 1kg (water) personal laundry.

Lightweight and Portable:

 

9CM / 3.54inch in diameter, 320 grams in weight, it can be carried in a pocket. 

With a Small and Compact Design it fits comfortably in backpacks, suite cases, sinks, or tables that require less space.

Long Lasting:

 

This mini washing machine will last for years. Adopting low noise design, no worrying disturbing your rest or sleeping.

Easy to Use:

 

After installing the washing machine into a suitable bucket filled with water, put personal clothes and washing liquid into it, plug in and press the power button on the remote control to start automatic circulation.

Working Process:

 

The washer first cleans the turbine for 2 minutes, followed by 1.5 minutes of ultrasonic vibration cleaning, and then performs

 

bubbling cleaning for 5 minutes, repeating for about 30 minutes.

+30 MINUTES TIMED SHUTDOWN

+15 SECONDS TIMING FORWARD AND REVERSE ROTATION SWITCHING

+5 MINUTES ULTRASONIC AND TURBINE SWITCHING




SPECIFICATIONS:

Power Supply: USB

Input Current: 3A

Input Voltage: DC5V-10W

Output Voltage: DC12V-24W

Output Power: 6W
PORTABLE WATERPROOF WASHING MACHINE