TRANSFORM YOUR FAUCET INTO MAGIC! YOU WON'T STOP USING THIS1!
🔄 1080 Degree Rotation Angle: Imagine any direction - rotate as you wish.
🙌 Two Modes: Soft Bubble Stream and Strong Shower. 
💯Safe and Top-grade Materials: Aerator is made up of high-quality brass, giving your sink faucet a premium appearance.
DOES NOT TRAP STILL WATER ELIMINATING GROWTH OF BACTERIA!
👍 No need a Plumber for Installation: Simply unscrew the aerator from the threaded tip of the faucet and replace it with our aerator.
🌎 Wide suitability: Fits on 99% of all kitchen and bath faucets available on the market. 
🐥 Save on bills and protect ecology: Minimized water consumption while maintaining a high pressure volume.
REACH ALL THE ANGLES
Unlike a standard faucet extenders Universal Aerator has huge angle rotation of 1080° that makes it the most convenient tool for everyday use. 


RINSE LARGER DISHES IS MUCH EASIER WITH 2 MODES OF FLOW
Aerator provides two water outflow rotary switch modes:
1) Soft Bubble Stream which is perfect for hand washing.
2) Strong Shower for fast and accurate water flow.

REDUCE WATER CONSUMPTION AND SAVE ON BILLS!
Our aerator cleans effectively while minimizing water consumption, allowing you to avoid splash chaos while washing your hands, fruits or any other things!
Also it fits perfectly on 99% of all kitchen and bath faucets available on the market.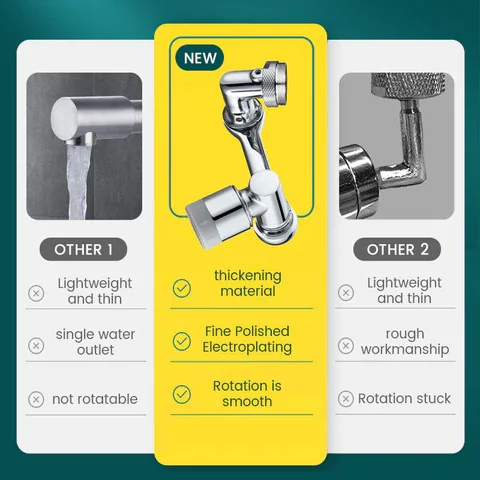 PACKAGE INCLUDES:
- Water Faucet
- Sealing rings (if any adjustment to you original faucet is needed)
.
Versatile Faucet Attachment: Universal 1080° Swivel Robotic Arm Extension with 2 Modes and Large-Angle Faucet Sprayer